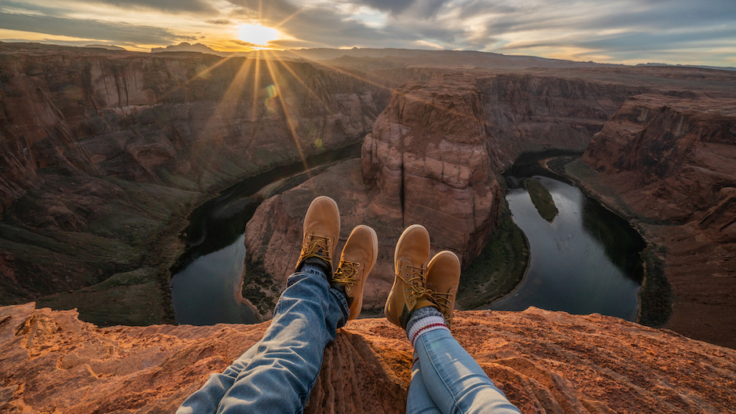 America's Best Idea
One of the United States' fastest growing exports isn't a product but rather, the opportunity to have an authentically American experience in the great outdoors of our National Parks. However, even these wild places can't escape the economic impact of COVID-19.
Travel is the United States' second largest export, totaling $255 billion in 2019. Tourism has grown to be the quiet hero of trade. Visitor spending supports the broad "travel industry" of lodging, food service, recreation, transportation and retail, while also contributing tax revenue to local and state governments.
And increasingly, international travelers come here seeking a glimpse of America's Best Idea – the National Parks – which offer natural beauty and distinctly American heritage that can't be found anywhere else in the world. Visitation to the National Park sites reached 318 million in 2018, an increase of 16 percent over ten years. One-third of international travelers to the U.S. included a visit to a National Park in their itinerary.
That's the Ticket
Travelers from Asia have been a fast growing segment of visitors to our public lands. In 2016, one million travelers from Asia Pacific countries visited the National Parks, with a large percentage coming from China. The number of Chinese tourists in America has fallen somewhat in recent years given trade tensions and the strength of the U.S. dollar making travel more expensive. But Chinese tourists are still the biggest spenders of all international travelers here, spending $34.6 billion in 2018.
International and domestic tourism to the National Parks is a major economic driver. Across the entire United States, the National Park Service found that visitor spending supported 329,000 jobs and $40 billion in economic output in 2018. More than 268,000 of those jobs were located in the parks' gateway communities. The economies of these often small, remote towns are closely intertwined with the popularity of the parks. Tourists eat out at restaurants, they stay in hotels, they buy gas, they take home souvenirs – all purchases that support local jobs.
Local Landmarks
Page, Arizona is a perfect example of how tourism to public lands impacts local economies. About 7,500 people call this quiet town perched atop a red rock mesa their year-round home. But more than 4 million visit the region each summer to enjoy the nearby Glen Canyon National Recreation Area. Lake Powell is the second largest man-made lake in the United States and is a top destination for houseboat rentals. Millions more travel to Page to snap a selfie with Instagram-famous natural wonders like Antelope Canyon and Horseshoe Bend.
Given its central location, Page has also become a favorite home base for adventurers looking to explore the Grand Staircase-Escalante National Monument, Vermilion Cliffs National Monument, or the Grand Canyon, which is the most popular of all National Park sites among international travelers. U.S. Route 89 – also known as the National Park Highway since it connects seven western National Parks – runs right through town. The iconic wild west vistas of Monument Valley are also close by.
In 2018, Glen Canyon's 4.2 million visitors spent $411 million in the region, supporting 5,030 jobs. More than 96 percent of that spending came from out-of-town visitors. That count was set to climb even higher after Lake Powell was named one of the Best Places to Visit in 2020 by Forbes. Spring break is traditionally the start of Page's busy season and restaurants, tour companies, and hotels have been gearing up for the annual influx of visitors.
Turning a Page
But then, COVID-19 happened. Page – like other gateway communities across the U.S. – is in uncharted territory. What happens when international borders are closed and domestic tourist travel is discouraged? How should towns with limited medical infrastructure prepare for the worst?
In an effort to slow the pandemic, the Administration banned international travel to the U.S. from China, Europe, Iran, Ireland and the UK. China is currently the third most important overseas market for U.S. tourism. The U.S .Travel Association warns that decreased travel due to COVID-19 could mean a loss of $355 billion in total travel spending – a negative economic impact six times that of 9/11.
So far, the National Park Service has decided to keep most parks open while waiving the entrance fee and enforcing new "social distancing" rules to protect the health of employees. However, individual park superintendents have the authority to modify operations as needed. Some parks – like California's Yosemite, another especially popular destination among international tourists – have opted to shut down completely.
In Page, precautions are being taken to protect the community from COVID-19. Tour guides are pausing their operations. Restaurants are switching to take-out only. The Navajo Nation closed the entrance to Monument Valley. But the extent of the impact on this summer's visitor numbers remains to be seen.
Global Icons Abandoned
And Page is not the only community navigating this new reality. Moab, a popular adventure destination in Utah for rock climbers and visitors to Arches and Canyonlands National Parks, is encouraging tourists and spring breakers to stay home to prevent a strain on local hospital resources. The state of Colorado, home of Rocky Mountains National Park, now recommends that visitors "should seriously consider canceling nonessential travel".
A similar scene is playing out around the world. Other countries are moving to ban entry for international travelers and popular sites like Mount Everest have been shut down. Meanwhile, communities that rely on tourism are coming to terms with the economic impact of the pandemic. The European Union estimates it is losing $1.1 billion each month due to lost tourism from China alone. Italy has also been hit hard. The world's most iconic sights in Rome and Venice that are usually packed with crowds are now empty. It could mean a loss of $12.5 billion for Italy's economy over the next three months.
These unprecedented times have made it easy to see the ripple effect tourism has in the economy. Communities are grappling with the critical challenge of protecting public health at the expense of one of their most important exports and one of the greatest sources of globally shared experiences – travel.
Sarah Hubbart provides communications strategy, content creation, and social media management for TradeVistas. A native of rural Northern California, Sarah has melded communications and policy throughout her career in Washington, D.C., serving in government affairs, issues management, and coalition building roles in the agricultural sector. She is an alum of California State University, Chico and George Washington University.
/wp-content/uploads/Horseshoe-Bend-Feature-Image.jpg
592
937
Sarah Hubbart
/wp-content/uploads/TradeVistas_Logos-04.png
Sarah Hubbart
2020-03-26 20:47:48
2020-03-26 22:59:37
COVID-19 Shows the Economic Impact of Travel Exports to Our National Parks