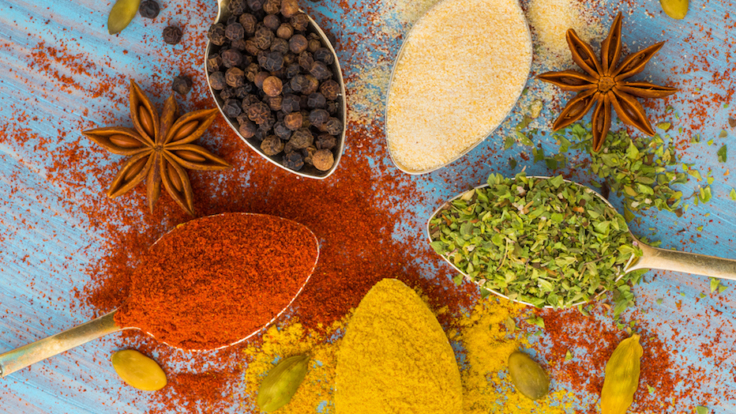 Turmeric is the new "it" spice
Walk into any hip café and you may notice a new yellow drink on the menu. The turmeric latte, or golden latte as it's sometimes called, has become a staple in coffee shops and on social media. Turmeric is having a "golden moment." Dieticians are touting the spice's anti-inflammatory health benefits and foodies are obsessing over its bright yellow color and peppery flavor. It's even popping up in places you wouldn't expect, like Kraft's iconic "blue box" macaroni and cheese.
Turmeric is a yellow spice powder made from the root of a tropical plant originating in Asia. As turmeric has grown in popularity, so have American imports of the spice. The U.S. imported $35 million worth of turmeric in 2017, up from just $2.5 million 15 years ago. The majority of our turmeric imports come from India – the ancestral home of turmeric and many of our other spices. India exports 68 percent of the world's turmeric alone.
While things are looking golden for trade in turmeric, less can be said for U.S.-India trade relations as a whole. Tensions have been heating up over the past few years, culminating in the recent announcement that India could soon be terminated from the U.S. Generalized System of Preferences (GSP) program.
Turmeric's deep trade roots
Turmeric lattes may be a recent Instagram darling, but the spice is deeply rooted in Indian culture and history. Traditional uses date back over 4,500 years. Beyond flavoring food, turmeric was used to dye fabrics and make medicine. Considered a sacred spice in Indian culture, turmeric is used in Hindu wedding rituals.
The turmeric plant (Curcuma longa) is a member of the ginger family. Grown in tropical, humid areas, the plant sprouts up more than three feet tall, producing large green leaves. It takes up to nine months to grow before it's prime for harvesting. The finger rhizomes, or roots, are then extracted, cleaned and separated from the mother rhizomes (which are stored as seed for the next harvest). The rhizomes are cured to extract the turmeric, undergoing a series of steps including boiling, sun drying and polishing.
High-quality turmeric is packed with curcumin — the magic ingredient that gives turmeric its superfood reputation. Curcumin is known for its anti-inflammatory properties and is said to help lower cholesterol, prevent heart disease and even fight cancer. Long before turmeric lattes appeared on café menus, Indian families were drinking traditional haldi doodh, or "golden milk", to fight off illnesses.
Importing the spice of American life
American chefs to home cooks depend on spice imports from countries with tropical climates to flavor our food. Even Maryland's McCormick & Company, the world's largest spice company, says it generally sources its pepper, spices and herbs from countries outside the United States.
India is a historic epicenter for the global spice trade and continues to be an important source of spice imports today. In 2017, the United States imported $238 million worth of spices from India, its biggest agricultural import from the country. India is the fourth biggest supplier of American spices, behind Madagascar, Vietnam and Indonesia. In addition to turmeric, India also exports chili, cumin, pepper, cardamom, saffron and other spices we use on a regular basis.
U.S.-India trade relationship is spicy
The United States' trade relationship with India has always packed some heat. To start, India has a $21.3 billion goods trade deficit with the United States, a popular source of discontent within the Trump administration. President Trump has also repeatedly criticized India for high tariffs (recently calling out tariffs on Harley Davidson motorcycles).
Last year, the United States imposed steel and aluminum tariffs on India among other nations under Section 232. India said it planned to retaliate with tariffs on U.S. goods, including apples, walnuts and chickpeas. The country has delayed implementing those retaliatory tariffs on multiple occasions but has filed complaints against the United States at the World Trade Organization (WTO).
In addition to these ongoing issues, the Office of the U.S. Trade Representative (USTR) has outlined a laundry list of other trade issues with India in its recently released 2019 National Trade Estimate Report on Foreign Trade Barriers. Additional areas of U.S. concern include India's recent data localization laws, export subsidies, intellectual property, and more.
India's GSP preference shelved?
U.S.-India trade tensions have taken a new turn with the administration announcing it will suspend India from accessing the Generalized System of Preferences (GSP) program.
The GSP program was first established by the Trade Act of 1974 as a way to help poor nations grow their economies and decrease poverty by giving them special access to the U.S. market. Developing countries that meet GSP requirements are able to export thousands of products to the U.S. duty-free. India was the biggest beneficiary of the GSP program in 2017, accounting for $5.6 billion in duty free goods that represented over 25 percent of all GSP imports.
Last April, the U.S. Trade Representative initiated a review of India's eligibility under GSP due to complaints from the U.S. dairy industry and medical technology industry that India was not providing equitable and reasonable access to its own market— a requirement for GSP countries.
Following the USTR investigation, President Trump notified Congress of his intent to terminate India's GSP standing. USTR cited "a wide array of trade barriers that create serious negative effects on United States commerce" and said that despite intensive engagement "India has failed to take the necessary steps to meet the GSP criterion." India refuted this argument, saying it "was able to offer a very meaningful way forward on almost all the US requests." India will now have 60 days before its GSP status is officially terminated.
Your golden latte spared
Sipping a turmeric latte may be calming – good thing since U.S.-India trade relations are growing turbulent. Spices are the number one U.S. agricultural import from India. Fortunately, turmeric from India enters the United States duty-free even without the GSP program, so whether India stays in the program or not, trendy turmeric is still golden for now.
/wp-content/uploads/Spice-Feature-Image-2.jpg
593
932
Lauren Kyger
/wp-content/uploads/TradeVistas_Logos-04.png
Lauren Kyger
2019-04-05 02:45:52
2019-08-08 20:32:46
Spicy Trade: U.S. and India Turn Up the Heat